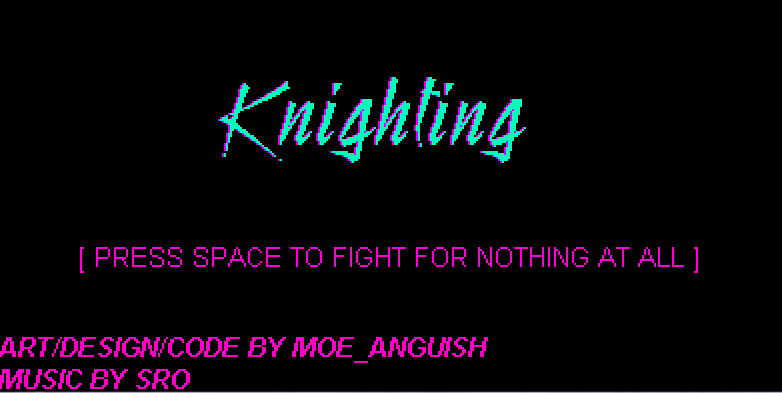 Yes, i'm doing video games again after an entire year of not touching them... to see if my skills are still decent enough for this stuff, i've decided to revive an old project of mine that i thought was really successful, and that would be "Knighting"
This game had (If i remember correctly) Nearly 5,000 views and Frontpage / Daily third, 4.5 stars rating and people loved it. so now, i'm making it again but with some additions and of course... different art.
For those of you who didn't get to play the old one from a year ago, i'll upload the legacy version so you can play it soon.
And for those of you who don't know who i am, then let me explain my story :
My old name was "Ghxulers/Ghoulers777/TheOverGhoul/etc" i changed names a lot...
I had made games such as _R_G_B_ with @NinjaMuffin99, the aforementioned "Knighting" game with @SroSocial, a less successful top down shooter game which will be getting its own revival soon, and some other old projects that i've deleted... i also had nearly 200 fans and plenty of art pieces as well.
Real life issues happened.
I thought i wouldn't get back to doing this stuff ever again, so i deleted everything as some way for me to let it all go and move on.
One year later, things have cleared up and it seems like i can go back in action as an artist/game dev.
I wanna start over...
So, basically; i might finish this in either the next couple of days or the next 2 months depending on circumstances. i can't make any promises other than that i'll try my best to finish this quickly.
But anyway, thanks for reading and i hope you're looking forward to playing my game!